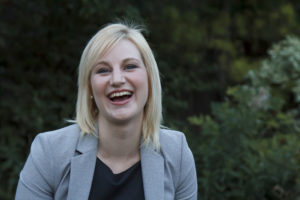 Alicia Higgison is the current Trustee for the Greater Essex County District School Board, representing Tecumseh and Lakeshore. She is the Chair of the Education Committee, and along with her colleagues, sits on the Indigenous Education Committee, the Policy Committee, and is the County/ School Board Liaison.
Alicia has 12 years of experience in office administration and communications. She works at the University of Windsor as the Administrative Assistant and Social Media Coordinator for the Office of Open Learning. In this role, she engages teacher candidates in the Faculty of Education with their professional development.  Her range of skills include finance, information systems, student development, and social media support. She is an accomplished speaker, having presented for AAEEBL (Association for Authentic, Experiential, and Evidence-Based Learning) and Vote To End Poverty, focussed on Tackling Voter Apathy.
Alicia has earned opportunities such as the Rotary Youth Exchange program in Finland, which helped shape her comparative views of the education system. She also obtained proficiency in the Finnish Language from University of Helsinki. She has been the recipient of multiple awards, such as the UWindsor Service Excellence Award, and eCampus Ontario OER/ Open Educational Practice Award, demonstrating her responsiveness to public needs and advocacy for equitable access to educational resources for all.
Alicia is a graduate from the University of Windsor with an Honours B.A. in Political Science.  She enjoys storytelling, writing, and attempting to close all her activity rings for the day. Alicia lives in Tecumseh with her husband, Ryan, and their three daughters, Isabella, Annika and Maëlle.
---
Contact:
Email: alicia.higgison@publicboard.ca
Phone: 519-818-4293
Facebook: /TrusteeHiggison
Twitter: @aliciahiggison